This is the first of fourteen interviews to celebrate Happy Homicides 6: Cooking Up Crime.
This is the picture of Vincent H. O'Neil that appears on his books and all offical author-y things.
Doesn't he look respectable, polished, and sophisticated?
That is not the Vincent I know. I mean he does look like that when he wears a suit and tie. The Vincent I know is named "Vinny". Vinny wears cargo shorts and a t-shirt (with a movie or pop-culture theme). Vinny sits on the lobby couch at SleuthFest and tells you side-splittingly hilarious antidotes that make you spit your coffee onto your precious manuscript that is bleeding in red slashes and comments from an agent/editor. Vinny will always make you forget your woes with a joke and a dash of sarcasm. So, it is with great honor that I present you Vincent "Vinny" H. O'Neil, the Malice Award-winning author of the Frank Cole mysteries and the theater-themed mystery Death Troupe. Writing as Henry V. O'Neil, he recently completed a five-novel military science fiction series with HarperCollins.
When and why did you begin writing "in shorts"? Is it harder or easier than full-length novels?
I absolutely love the short story format. I've written long novels, regular-sized novels, novellas, and short stories, and while each has its own appeal, I started out writing short stories and always come back to them.
There's a discipline to everything in short stories, from the plotting to the word choices, that really makes me focus on what I'm doing. I've also found that my editing of draft short stories is much more precise than it is for longer works, no doubt because the word count is more manageable.
Right now I'm working on a fantasy piece that's a little longer than my usual short story (this one's topping 13,000 words) but I'm taking the time to dissect each part. It's fun to make sure I've taken advantage of all the opportunities presented by the characters, the dialogue, and the plot.
What is your favorite short story anthology beside the Happy Homicide series?
Well, since you ruled out Happy Homicides, there's another one that's a little closer to home here in Rhode Island. Level Best Books has an annual mystery anthology that is really superb. The subtitle for the series is "Best New England Crime Stories" and the title each year reflects something indicative of the region. For example, the year I got a story into that series the anthology was called "Quarry" and the cover featured a marvelous picture of a fine piece of New England stone. Although many of the stories are based in the northeast, the requirement is that either the tale or the author have a connection to the area. They're really worth checking out.
As an author, what has been your most embarrassing moment, typo, or gaffe?
For this answer, I'm gonna go with a typo—but it really is embarrassing.
In my Frank Cole mystery series, the main character is down on his luck and recently relocated to the town of Exile in the Florida Panhandle. He's quite intelligent, and puts food on the table by doing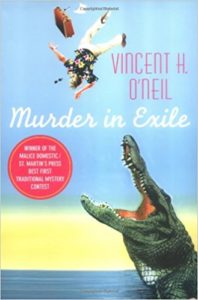 Although he does everything from hunting down important court documents to online background checks, his main role is fact-checking for law firms and private investigators. In the third book, he's describing himself as a fact-checker and somehow I fat-fingered that into "fakt-checker".
You can be forgiven for misspelling a lot of words, but in the context of my book the irony of this mistake is just deadly. Luckily someone caught it before the book was released.
What is your favorite vacation spot to be in shorts? (I want you to say Miami, but no pressure. wink)
Of course it's Miami! During our beautiful Rhode Island winters, I frequently check the temperature in Miami just to make sure that sandy beaches and palm trees really are only an airplane flight away. I've also spent a fair amount of time in the Panhandle (and set the Frank Cole mysteries there) so Panama City, Destin, and Fort Walton Beach are all great places for shorts. Oh, and the beaches there are white because they're not made of sand—it's finely ground quartz left over from an ice age.
I also lived in Panama for two years while serving in the army, and once I acclimated (it's really hot down there) I grew to love the scenery and the culture and the Canal. It's a fantastic place to wear shorts, and if you get the chance to go it's well worth it.
Since this edition of Happy Homicides is food themed, I have to ask—What is your favorite comfort food?
Although I grew up in New England, I've lived in many different parts of the United States including the south. I deeply enjoy chicken-fried steak and mashed potatoes, biscuits and gravy, and a nice tall glass of sweet tea.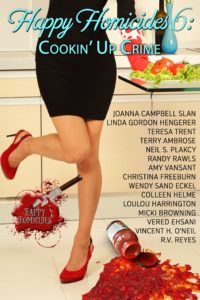 Happy Homicides 6: Cooking Up Crime is on sale for .99 cents until Nov. 5th and just $ 2.99 after that. Free for Kindle Unlimited members. There is a bonus pdf of recipes & crafts with each purchase of the e-book. Instructions on how to claim your bonus are on the last page of the 303 paged anthology.
Please follow Vincent on his facebook page.
Join us next week for another interview with one of the Happy Homicides authors.