This is the third of fourteen interviews to celebrate Happy Homicides 6: Cooking Up Crime.
Loulou Harrington writes the Myrtle Grove Garden Club cozy mystery series and recently contributed to the mystery anthologies Happy Homicides 5: The Purr-fect Crime & Happy Homicides 6: Cooking Up Crime.
She is also the author of nine romances for Harlequin. Check out the covers. Aren't they great?!  Classic Harlequin.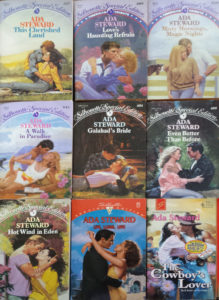 Loulou is a gardener herself and is always posting the loveliest photos of flowers on her facebook and twitter pages. Follow her and thank me later.  On to the interview—
When and why did you begin writing "in shorts"? Is it harder or easier than full-length novels?
I began writing "in shorts" for the Happy Homicides anthologies just this year. For me it's harder than writing a full-length novel. Even though it takes much less time to complete, I think it takes just as long, for its size, as a full-length book would take.
What is your favorite short story anthology beside the Happy Homicide series?
My first introduction to an entire book of short stories was the Nick Adams stories by Ernest Hemingway. It's still probably my favorite.
As an author, what has been your most embarrassing moment, typo, or gaffe?
My first published books were Harlequin romances, and probably the most embarrassing moment was early in my writing career when a male co-worker and friend brought one of my books to work with him and began reading part of a love scene aloud when I walked into his office. It wouldn't have embarrassed me nearly so much if it hadn't been an open cubicle where anyone could hear him over the walls. Luckily, by the time I got him to quit, he had me laughing, too—and thankfully he never did it again.
What is your favorite vacation spot to be in shorts? (I want you to say Miami, but no pressure. wink)
Miami. Seriously, I love that whole area, from Ft. Pierce to Key West. From around Biscayne especially, and down through the Keys, my husband and I have spent weeks at a time in an old sailboat exploring the area. Whether reading about it in shorts, full length books, or visiting in person, the Miami area has been like coming home for me for many years. I get nostalgic just thinking about it.
Since this edition of Happy Homicides is food themed, I have to ask—What is your favorite comfort food?
My favorite comfort food? Oh, man, that's hard, but if I had to choose one food that goes all the way back to my childhood and is still something I can't get enough of, it's southern-style cornbread dressing like my mother made for Thanksgiving, Christmas, and very special Sunday dinners. Turkey with cornbread dressing and cranberry sauce is all I need to feel like it's a holiday any day of the week.
YUM! Makes me wish next week would hurry up and get here already. Download Happy Homicides 6: Cooking Up Crime before the long holiday weekend. Be it for the food themed stories and bonus recipes or for a distraction from your relatives, it will be a great addition to your library.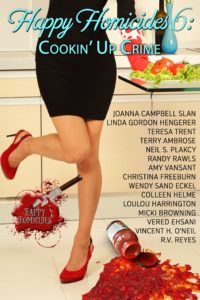 Keep checking back with Cozy in Miami for the rest of this interview series. Joanna Campbell Slan, the mastermind of the Happy Homicides anthologies, will be joining us.