When I asked Amy for a short biography, this is what she sent me.– Amy Vansant specializes in fun, comedic reads about accident prone, easily distracted women with questionable taste in men. So, autobiographies, mostly. Currently, she is a nerd and Labradoodle mommy who works at home with her goofy husband.
Fun-loving is the perfect one-word (Okay, it is actually two words with a hyphen cheater.) descriptor for her. Just look at her author photo. And, her books keep to the punny theme. I love "kilty" as guilty. (I wish I'd thought of it!) She writes several series and crosses genres. The Pineapple Port series (5 titles ) is in the cozy vein. The Kilty series is romantic suspense. I love the tag line Romance. Suspense. Haggis. She also has an urban fantasy series and a romantic comedy series. This lady never stops writing stories that must be why her answers to my interview questions were short and sweet. She had to get back to the keyboard.
When and why did you begin writing "in shorts"? Is it harder or easier than full-length novels?
When I was asked to join the Happy Homicide series! It's harder to write short stories for me, because I need to introduce the characters, make them memorable, introduce a good mystery and have it solved satisfactorily with enough twists and turns all in a few thousand words. That's tough.
What is your favorite short story anthology beside the Happy Homicide series?
I guess I could say Moms are Nuts because it is a story anthology I put together with other humorists a few years back.
As an author, what has been your most embarrassing moment, typo, or gaffe?
The funniest thing that happened recently – I was setting up a promotion for another author and realized I'd posted an embarrassing typo for his book "BONE MAKER" – I'd typed "BONER MAKER" Had me crying laughing… talk about a totally different book!! Luckily it hadn't gone live yet and I was able to fix it.
What is your favorite vacation spot to be in shorts? (I want you to say Miami, but no pressure. wink)
Miami is a favorite for the culture and food  – plus any island. I'm rarely happier than when I'm on a Caribbean Island!
Since this edition of Happy Homicides is food themed, I have to ask—What is your favorite comfort food?
Pasta, butter and cheese. I used to have it every day for lunch in college – turns out you can't have that meal every day as an adult and still be able to fit through doors…
Please check out Amy Vansant's website and other social media. You will be assured a laugh, a giggle, and maybe even a ROFLOL.
This is interview 2 of 14 highlighting the authors of Happy Homicides 6: Cooking Up Crime. Keep coming back to Cozy in Miami to get to know the other authors in this great short story anthology.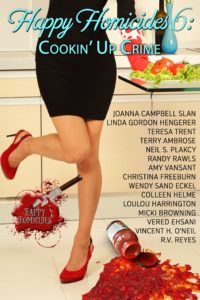 Save