I know it is April, but can we pretend it is October? In South Florida, October is about the time we all start leaving our air conditioned caves to venture outside. The weather becomes bearable and Halloween decor incites us. I think Carol J. Perry  lives in a stasis of October and I am jealous. She was born in Salem, Massachusetts. AND to make matters more magically ….. born on All Hallow's Eve! I hope you enjoy her interview and if you are not already a fan of her Witch City Mysteries get to reading them.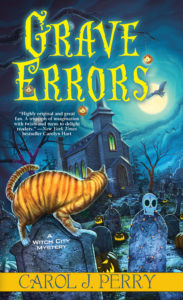 How long have you lived in FLA?
I've lived in Florida for forty three years!  (I hadn't added it up lately and the answer surprised me. That's a long, happy time away from New England winters!)
Where do you write and when?
I write in a once-upon-a-time Florida room, now a cozy, messy office. I usually begin early in the morning, (it's 4:17 AM now) and write on and off until about noon.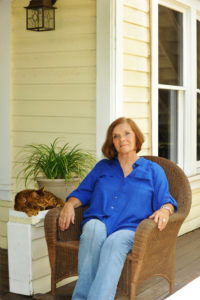 What is your biggest failure and what did it teach you?
Perhaps I'm too much of an optimist to think about "failure." Can we call it a learning experience? Anyway, once back in the beginning of my freelance career, I queried and got an assignment from Ford Times. The editor gave me a clear indication of the way the article should cover the proposed subject. I wrote it the way I thought it should be. Rejected, of course. The lesson? Follow the damned directions!
What is the best writing advice you've ever received? Or do you have some personal writing advice to offer?
Here's a piece of advice about writing: "Visualize, have faith, and work your ass off."
Who is your Dead Dream Date and why? (Literary or otherwise)
Literary Dead Dream date is Ernest Hemingway, not so much for the picking of his brain about writing, although that might be part of the conversation. I want him to take me fishing. I've done some big game fishing, (blue fin tuna, marlin) but I'd love to fish with the master!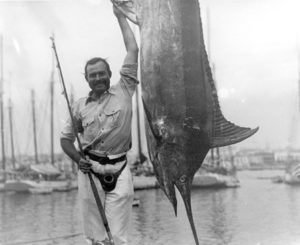 Favorite cocktail or N/A drink and at what Florida bar?
Not much of a drinker. I like wine—usually white wine. My favorite place to drink it is the Miami Avenue Wine Bar in Indian Rocks Beach, where they have music, an art gallery and a "book nook" where they carry my books!
Ask Carol a question via the comments section.
Remember there is a new Florida author interview every two weeks and a newsletter with jewelry tips and cocktail recipes. (sign up for it in the left column)