This is the sixth of fourteen interviews to celebrate Happy Homicides 6: Cooking Up Crime. 
I've met most of my interview authors in person at some point and time. But Vered Ehsani is a hard woman to get to. Why, you may ask? She lives in KENYA!  Yes, the Kenya that is in Africa. (This is her home and the critters that roam it. Ummm, hyena!) Even though, I would love to visit such a majestic place, sadly, airfare and vacation time do not permit it. I and you will have to make-do with reading about it via Vered's lens. She writes a paranormal detective series that is 'Jane Austen meets Lara Croft' and 'African myth meets Victorian manners'.
.
When and why did you begin writing "in shorts"? Is it harder or easier than full-length novels?
I use shorts to understand the backstory of a character, or to explore an idea for the next book. In some ways, it's easier than a novel, and certainly quicker.
What is your favorite short story anthology beside the Happy Homicide series?
Christmas Lites – all the proceeds go to support victims of domestic violence.
As an author, what has been your most embarrassing moment, typo, or gaffe?
I published my first book in the Society for Paranormals series, believing my editor had done her job. She hadn't, and there were a number of typos and issues which reviewers were quick to point out. I had to re-do the editing.
What is your favorite vacation spot to be in shorts? (I want you to say Miami, but no pressure. wink)
Mombasa, Kenya – I live in Nairobi, so going to Miami isn't a great option for a long weekend!
Do an image search for Mombasa beach! You may want to start your trip saving now. It looks gorgeous. Very tropical paradise feeling.
Since this edition of Happy Homicides is food themed, I have to ask—What is your favorite comfort food?
It's not a food but a beverage: tea. Copious amounts of tea. My favorite is Lady Grey, because I am above all things a lady… except when I'm not, in which case I reach for White Tea. I prefer to use whole leaf, as the bagged tea is really whatever can swept off the factory floor.
 Do you use honey, sugar, cream?  
I absolutely never add honey, sugar or cream. These additives would completely distort or destroy the subtle tastes inherent in that delightful beverage.
Do you drink it with a favorite treat?  
While a biscuit is always a lovely addition to tea time, I usually don't indulge as a pot of tea is a treat all on its own.
Vered's short story in Happy Homicides 6: Cooking Up Crime is A Death in Customs: The Cozy Tea Shoppe Mystery Series. Give it and all the other stories a read. Quick, fun, light, and plenty of laughs.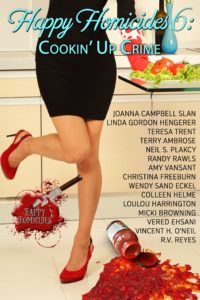 Please follow Vered on her various social media platforms
& ask her a question about Kenya in the comment section below.