I know I am off my bi-weekly posting. I stretched it to three weeks because I was at a 4 day conference last week. And not just any conference, Mystery Writers of America-Florida Chapter's SleuthFest. There was much learning and fun to be had by all. Plus, I was on volunteer duty as it is my chapter that sponsors the event. This volunteering involved wearing a feather boa. I sold raffle tickets, helped with the auction, gave directions, and sang back-up for Heather Graham. Here I am with Victoria Landis co-chair of the event. (The other chair is Murder on the Beach's Joanne Sinchuk.)
The speakers were amazing and the camaraderie of being in one's tribe of writers was soul nourishing. If you are a mystery writer I urge you to put SleuthFest on your docket.  I learned a lot and found more authors to interview for this Miami Interviews series.  Which brings me to Elaine Viets. I met her at SleuthFest in 2006 or 2007. As a bit of a fangirl having read both her dead-end job and mystery shopper series, I was in awe. Since then I have come to know her as a smart and sassy fellow member of FL-MWA. You will enjoy her sense of humor and storytelling. and if all else fails —- CATS!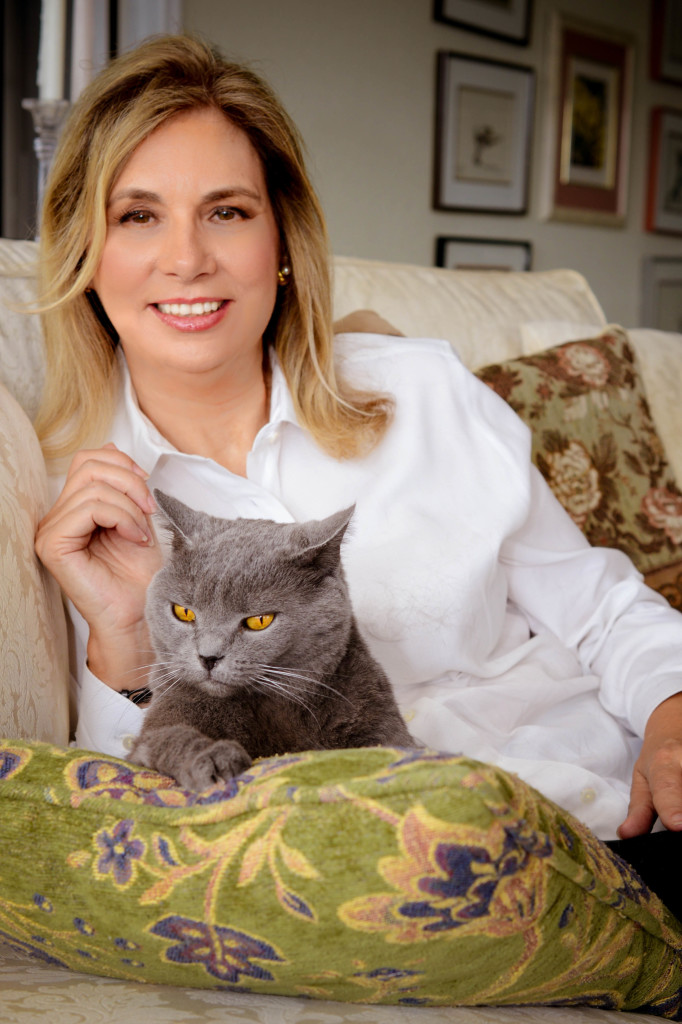 1. Have you ever been to Miami? Please tell us the one thing you found delightful or unique about "The Magic City."
Of course I go to Miami – all the time. Do I have to keep it to only one thing I like? Cuban coffee! It's rocket fuel. I love it – thick and rich and sweet. And mom-and-pop Cuban restaurants with fried plantains and black beans and rice. And the kind people on Calle Ocho who give me detailed directions when I got lost downtown and asked for their help in gringo Spanish. And cruising along the Julia Tuttle Causeway. So far, I haven't been caught by the cops. There's more, much more, but I love Miami's architecture and energy.
2. What is your favorite novel set in Florida and why?
Barbara Parker's "Suspicion of Innocence," an Edgar Award finalist. Barbara, a former prosecuting attorney, effectively portrayed the culture clash between old Florida and the newer Cuban arrivals in her Suspicion series, set in Miami. Highly recommend this series.
3. Tell us about your writing and main characters.
I'm best known for the national bestselling Dead-End Job mysteries, set in South Florida – mostly Fort Lauderdale, where I live. When this 14-book traditional mystery series started, my character, Helen Hawthorne, was on the run from her ex-husband. Helen had a six-figure corporate job in St. Louis until she came home early from work and found her husband – who was supposed to be working on the back deck – nailing their next door neighbor Sandy. Helen picked up a crow bar and started swinging, then filed for divorce. The judge awarded her worthless husband one-half of Helen's future income and she swore he'd never see a nickel. She went on the run and wound up in Fort Lauderdale at the Coronado Tropic Apartments. Helen worked a different low-paying job and hid from her ex for the first eight books in the series.
In Shop Till You Drop, she sold bustiers to bimbos. In Murder Between the Covers she worked in a bookstore. For Dying to Call You, Helen was a telemarketer. In Just Murdered, she worked in a bridal salon. In Murder Unleashed Helen worked at a high-end dog boutique, and for Murder with Reservations she cleaned hotel rooms. In Clubbed to Death, she solved the problems of people who had no problems at a country club. For Killer Cuts she worked at a hair salon where a haircut and blow-dry were $300.
As the series evolved, Helen changed from a bitter divorcee to a woman looking for a new life and love. She married private investigator Phil Sagemont in Half-Price Homicide, my novel set at a designer consignment shop. In Pumped for Murder Helen and Phil open their own private eye agency, Coronado Investigations, and they've worked together as a detective team ever since. The PI pair investigate a murder during a women's competition body building in Pumped. In Final Sail, Helen is a stewardess on a 143-foot yacht.
Board Stiff explores the fierce competition for beach sports – ocean kayaking, parasailing, standup paddleboarding, and more. Catnapped! is set in the world of cat shows and show cats. My cat, Mystery, is a former Chartreux show cat who got thrown out of the ring for biting a judge. That's her on the cover. In Catnapped!, a Chartreux show cat is kidnapped and her owner is murdered during a nasty divorce. Helen and Phil have to find the killer and the cat.
I've worked most of those dead-end jobs from telemarketer to booksellers, and I took standup paddleboard lessons for Board Stiff. I stayed up on the paddleboard for 45 minutes, the greatest athletic feat of my life.
Checked Out, my May 2015 Dead-End Job hardcover, is set at a library and I work as a volunteer shelver. My Dead-End Job mysteries are available as e-books and paperbacks and come out in hardcover.
I have two other mystery series currently in print: the hardboiled Francesca Vierling series, set at a mythical St Louis newspaper, and the cozy Josie Marcus Mystery Shopper series, set in the St. Louis suburb of Maplewood.
To read the first chapters of my novels, click on Novels at www.elaineviets.com. And don't forget to enter the latest contest to win a free mystery. Follow me on Facebook at ElaineVietsMysteryWriter and on Twitter @evmysterywriter.
4. Would your main character(s) be a fish out of water in Miami or would they dive in and swim with the sharks?
Helen and Phil can and do visit Miami and feel right at home. They love Cuban coffee, and mom-and-pop Cuban restaurants, and . . . (see question 1).