Drum roll, please!
I have a new release!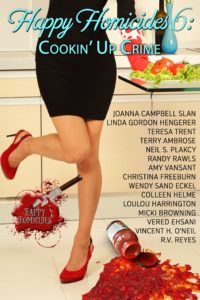 It is a short story anthology and I am one of 15 award winning authors in it. You will note the 6 after Happy Homicides. This is volume six of a very successful series. Each anthology has a theme. Sometimes it is a holiday, but this time it is FOOD!  Each of the fifteen stories has a food element to it. There is also a bonus pdf file of recipes and crafts. (Instructions on how to get the bonus are on the last page of the anthology.) You will want the book and the bonus. My story features my Southern-Latina character, Lilly Hardin Hernandez. If you are one of my close friends you might have been a beta reader for my unpublished novel, Pinche Guey which is her series. My recipe in the bonus is for Southern Caviar, a favorite dish of my to take to potlucks and barbecues.
Happy Homicides 6: Cooking up Crime is on sale for .99 until Nov. 5th. Get it while it's HOT!
To promote this release there is also a gift basket being raffled.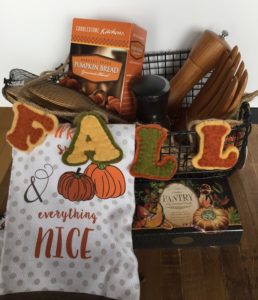 Win a Cook's Dream Basket at http://gvwy.io/fheu0li
I hope that you will take advantage of these promotions. This series and especially volume 6 is great. It has been an honor to be included. These authors are seasoned storytellers. You will enjoy each and every one of these 15 stories. Please leave a review on Amazon and/or GoodReads so that others might find the anthology.
Look back here for interviews with each of the authors over the next weeks and months.