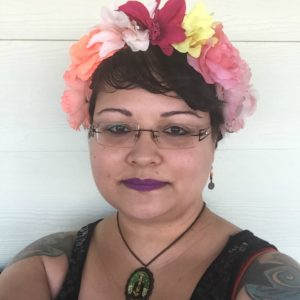 Sezin Koehler  "Zuzu" has lived in 18 cities in 13 countries. That certainly makes her unusual but not nearly as unusual as what she writes. Her first novel, American Monsters, is a postmodern feminist horror story set in Southern California's rave scene. Her second novel, Crime Rave, is a supernatural noir novel with feminist zombies and a smog goddess. Sezin is also the first person I've ever heard compare Marilyn Monroe to Frida Kahlo. If you can't tell by Sezin's head-dress, she, like me, is a Frida fan.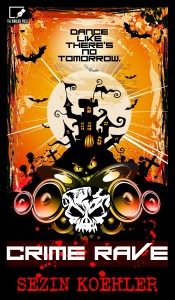 How long have you lived in FLA?
I've lived in South East Florida since December 2011 when my husband and I moved to his hometown of Boca Raton after almost a decade living around Europe.
Where do you write and when?
I have a home library here in Lighthouse Point with my McGuyvered standing desk where I do most of my writing. I was tickled to learn that Ernest Hemingway, who wrote the majority of his novels here in Florida (Key West), also worked at a standing desk.
I write every day, but my projects vary. Sometimes it's essays, journalism, or a variety of assignments. Other times it's short stories or my novels, of which I have about 4 in the works.
I also regularly write in a journal most every day, which consists of brainstorming, random notes and observations, potential avenues for research and even everyday venting.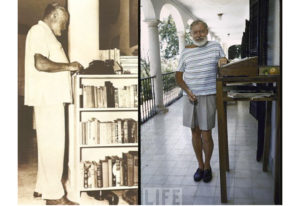 What is your biggest failure and what did it teach you?
In a way I'm living my biggest failure at the moment, which is that I'm not making even close to even a minimum wage as a writer if I take into account how many hours I spend writing, researching, and pitching stories + how much I eventually get paid. It's really testing my patience and my resolve to keep going on a regular basis. I think not being financially successful as a writer wouldn't be such a big deal if I had a part-time gig of any kind with regular hours and pay, but living where I do has made securing that kind of work a singular challenge.
I also suppose that my biggest success is also my biggest failure: I'm an eclectic wordsmith who enjoys writing about a variety of different topics. My various pieces that have gone viral have been about such diverse issues it makes it difficult to build a following. Even my novels are genre jumping because I get bored writing in the same style for such extended periods of time. My lack of specific thematic focus is often considered a hindrance in today's publishing world that requires a writer to pick a specialty and write mainly toward that.
What is the best writing advice you've ever received?  Or do you have some personal writing advice to offer?
The best piece of writing advice I've ever received is from Stephen King from his brilliant On Writing: "If you don't have time to read, you don't have the time (or the tools) to write." This is the piece of advice I give everyone who asks me about becoming a writer. Also, patience. If you don't have time to read and you don't have patience, you're better of doing something else with your time rather than writing or trying to build a career as a writer.
Who is your Dead Dream Date and why?  (Literary or otherwise)
I'm torn between Frida Kahlo and Marilyn Monroe. Frida I relate with on so many levels, like producing raw art from places of deep pain and finding beauty in lifelong hardships. We would drink tequila straight from the bottle and share battle scars, emotional and otherwise. Marilyn Monroe is someone I've been fascinated with since I was a child. In the world of my novels, she never died and her daughter is one of my favorite characters. Marilyn fascinates me because, and in many ways like Frida, she gave a beautiful face to the world while there was so much pain, sorrow, and insecurity underneath. I'd just like to give her a big, warm hug and tell her I've always understood.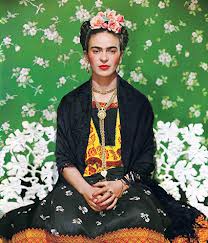 6) Favorite cocktail or N/A drink and at what Florida bar?
There are only a handful of bars with outside seating in my area; I don't live in Florida to sit shivering inside an arctic watering hole. 😉 One of my favorite local tiki bars Galuppi's is actually tucked into the Pompano Beach Golf Club. I also enjoy walking over to our local Bonefish Mac's here in Lighthouse Point. I always order a tequila neat, no lime, and a sparkling water on the side. See why Frida and I would get along like gangbusters?
Follow Zuzu on her social media accounts: Tweeting about politics, Facebooking about writing and culture, and Instagramming her growing collection of art and tattoos.
Save