SLEUTHFEST is only 7 days away!
I am thankful to have something to focus on rather than the news. If you follow me on twitter then you've seen my obsession with it. It is our civic obligation to be watchful and knowledgeable about our government. But, these last 28 days have  me dizzy trying to keep up with being informed. I've recently found this site that bullet points the day's happenings. It has helped me have time to read the longer think pieces and counterpoints which do help my blood pressure simmer down, some. Now with SleuthFest only a week away, I really need to shift the focus back to me and mysteries. (aka self-care) Take a look at the three-ring binder that I've gussied-up!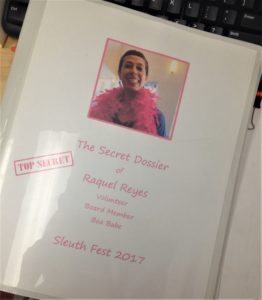 One of my volunteer jobs is organizing the on-site registration table. There are thirteen folks rotating through in shifts over three days. They will pass out conference credentials/nametags and answer all kinds of questions. The most asked questions: Where's the bathroom? Where's the luncheon? Sometimes, I think the registration table has an INFO sign blinking in neon above it. I don't mind the questions as I like to meet people and help the lost. Admittedly though, most of the answers are in the  program book. Hard to believe writers sometimes don't read and research! Let's blame it on the proximity to so much star wattage. With David Baldacci in attendance the wattage is pretty damn hot this year.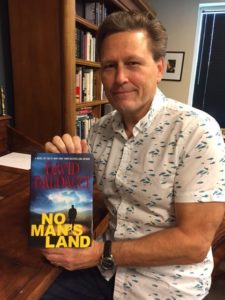 The number and variety of panels and workshops can also get a person turned around and flummoxed. There are 49 to choose from! Add onto that— lunches with guest speakers, agent/editor mixers, trivia night , book signings, the raffle baskets, and the live auction. I'm particularly excited for the trivia night. Not because I am a mystery trivia buff but because it is sure to be filled with goofs, gaffs, and laughter. I've donated a basket (My book Jeweler's Mark, a bottle of prosecco & one of peach liqueur, bellini flutes and more)  to the raffle so buy lots of tickets. I'm also planning my book buying budget as the bookstore will be stocked with the titles of the panel/workshop authors. My budget will get blown but at least I'll have reading material for six months!
Other fun and a personal goal I've set for myself is to get #SF17 to trend on social media. Yes, it is a shallow and meaningless boast to say we trended but, I will have so much fun doing it! You can help! Use the tag #SF17 and/or #SleuthFest on facebook, twitter, instagram, and pintrest. Tag all your conference photos. Anytime you see a flamingo (our mascot is Freddie the Flamingo) take a selfie with it and tag it.
See you there!
Save
Save
Save