I have known Joanna Campbell Slan for almost ten years. We met at SleuthFest in 2006. She was folding origami while we waited in the audience for the panel to begin. Whenever I think of her, the picture of a woman always making something pops into my mind. Creative is not a strong enough adjective to describe Joanna's skills and talents. Not only is she a well-known scrapbook aficionado and miniaturist, but she weaves amazing plots. I love the Kiki Lowenstien series, now at book twelve. Kiki is a complex woman of strength, a lot like the author. Joanna has a series on its third book, Cara Mia Delgatto,  which is set in Florida. She has intertwined the two characters in her latest release  the Kiki and Cara Mia Christmas Collection.  And then there are the anthologies she edits and her historical series and … As you can see this lady is a  tidal wave of talent. So, on to the interview–
How long have you lived in FLA?
Actually, I was born in Jacksonville, but my parents moved us to Indiana when I was a baby. I've been back as a full-time resident of Jupiter Island since 2010.
Where do you write and when?
Anywhere, everywhere, all the time.  Seriously, I do.  I use a notebook computer for its portability. Because I'm on the computer all day, I like being able to move from room to room, or even to go outside.  I write every day unless I have an event or a project. Right now I'm working on my entry for the 2016 Creatin' Contest, a miniature contest, so I'm not putting in my usual hours at work. That said, this year I'm releasing four original books and four anthologies with other authors, for a total of eight titles.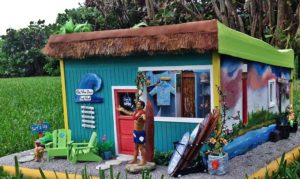 Joanna won Honorable Mention in 2015
for her "Big Wave Dave's Surf Shop".
What is your biggest failure and what did it teach you?
You don't have room or time for me to list all my big failures. I fail nearly as much as I succeed. But I can't remember one specific failure that outranks all the rest, and here's the reason for that—it doesn't matter. What matters is getting up, starting over, and moving forward. That's the lesson I've learned over and over. You're only "out" if you stay down.
What is the best writing advice you've ever received?  Or do you have some personal writing advice to offer?
Wendy Corsi Staub once told me to keep writing that next book. Each new book sells the old ones. She was right! Plus, you get better and better as you rack up more experience. The more I write, the better I get.
Who is your Dead Dream Date and why?  (Literary or otherwise)
I'd love to have lunch or dinner with Terry Gross or Diane Rehm because they've interviewed the most important people of our generation.
Oh, please invite me to that dinner party. Both those ladies are great.
Favorite cocktail or N/A drink and at what Florida bar?

My favorite is Campari and orange, and I prefer drinking it while on a yacht, because I first had one on a yacht at the Cote d'Azur.  It was such a thrill that I still order this cocktail as a way to bring back a fun, once-in-a-lifetime event.
I love Campari with grapefruit juice but I've never had one on a yacht!
You'll find all of Joanna's social media links on her website along with links to her books. She often has contest, giveaways, and freebie short stories. So, stay connected with her via her newsletter.
Save
Save
Save