Lesley Diehl is one of my favorite Florida authors and I'm not just saying that because she blurbed my book. Beyond the belly laughs her humorous mysteries gift us, she pays it forward as a source of encouragement and solid advice to novice writers.
The Eve Appel series about a sassy & snoopy country girl, is set in rural Florida. The third book , A Sporting Murder was awarded a Readers' Favorite Five Star Award. The fourth ,Mud Bog Murder, will be released September 1st.  I recommend you read the whole series!
 How long have you lived in FLA?
I've had a long term love affair with Florida beginning in the 1980s when I spent Christmas breaks and Spring breaks in Key Largo. I had friends who introduced me to the Keys and when I retired, my husband and I began spending the entire winter season in Key Largo. We liked the funky, fun bars, loved dancing to Island music and have a variety of friends there, some from the US and others from Canada, Germany. Haiti and Cuba. Our German friends had tea every afternoon, so we took up the habit also and continue it each day now. It was a fun time, but soon the big developers came in and took away the charm there.
We now spend six months each year in rural Florida, old Florida, with cowboys, horses cattle, lots of alligators and swamps. It has its own rugged charm. It's quiet, a good place for writing and a really fine location for a murder mystery
Where do you write and when?
I write year long. In Florida, my desk overlooks our little canal where I can watch the bird life and alligators and listen to little frogs croak at night. Back in Upstate New York, the setting is just as ideal. I look out a window into a lilac bush and watch the squirrels run across the shed roof and then jump onto the house roof looking for a way into our attic, the little buggers.
What is your biggest failure and what did it teach you?
Wow! Now that's one question no one has asked me in an interview before.
I began writing when I retired and that was a mistake because I began my writing career much too late. I now understand that breaking into the business is a long term proposition, and I have less time than I'd like. Given the number of ideas for stories and books that whirl around in my head, I should have begun in my twenties, but back then I felt it was a foolish idea to entertain writing and publishing a book. Now I'm sorry I didn't act on that impulse. However, I'm learning patience in my dotage, so if I live long enough, I might get fifty percent of those ideas in my head onto a computer and then into books.
What is the best writing advice you've ever received?  Or do you have some personal writing advice to offer?
Related to the question above, here's my writing advice to those who are thinking of writing a book. Do it now, but do it wisely. Do not wait until you "have the time." Make time, and be certain you join writing organizations such as Sisters In Crime and Mystery Writers of America because simply writing is not enough. You need to learn your craft, so get advice from other writers, but writers who know the business. I so admire those people who hold down a full time job and yet find the time to write. I know some of them do in when the kids are in bed or they get up early in the morning and write before they go to work. Kudos to all of you. You're on your way.
Who is your Dead Dream Date and why?  (Literary or otherwise)
I would have loved to have gone to dinner with Eleanor Roosevelt, not as a date date, but as a person I admire for her work for the poor, for women, for minorities and for people struggling through the Great Depression. She was an inspiration to those who knew her, and she influenced her husband, moving him to develop social programs to help move the nation through the dark years of economic upheaval. She helped redefine the role of first lady. I know some thought she was too pushy, too interfering, but I admire her courage in standing at the side of a man who although a great leader was probably not a very good husband and mate.
Favorite cocktail or N/A drink and at what Florida bar?
I love mojitos, and I wish someone would recommend a bar that makes a good one. I can do a bang up job at home, and I know a bar that makes a super mojito in Upstate New York, but I'm afraid I'd have to come to Miami for one. I don't even know a bar that does them well in the Florida Keys. Everyone seems to think you can make a decent one with a mix. Blah! Recommendations anyone?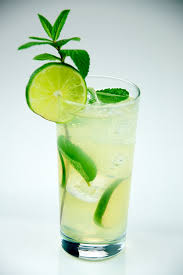 Come on Floridians, let's direct this lady to a good bar with great mojitos! Find Lesley via her website or on goodreads.
Save