Janet Franks Little writes romance with a splash of levity. I got a sense of her humorous take on life when she told me about her first "teaching in Hialeah" experience. For those of you that are not South Floridians, Hialeah is a Cuban stronghold and unlike any other place in the world. (I love Hialeah, my father lived there for many years.) Janet's tale of 'you're not in Ohio anymore'  ended with her student telling her about his Santeria church. Instead of freaking out and running home to the mid-west, Janet took it in stride with a good laugh to herself. Beyond being an excellent Speech Language Pathologist, Janet Franks Little is the author of adult romantic comedies that touch on real life issues faced by contemporary women. A member of the Coral Springs Writers Group, Florida Writers Association, Romance Writers of America and the Florida Romance Writers, she has contributed to several of the Writing Advice from Authors to Authors series available on Kindle.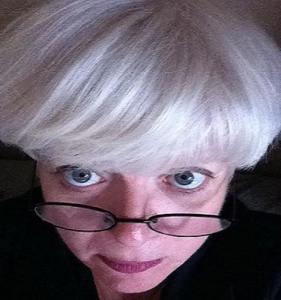 How long have you lived in FLA?
I've lived in Florida since January 1, 1990. We moved from Akron, Ohio to Miami. It was quite an interesting adjustment from a Midwest mid-sized town to an international big city. Working in the schools in Hialeah will eventually be fodder for a book. After Hurricane Andrew (we were not adversely affected) my husband moved his company to Coral Springs. We bought a house in northern Broward county where we have been since then.
Where do you write and when?
I remodeled the den in our house into my office. It helped that a pipe in the slab of this room sprung a leak which required new drywall, flooring and paint. As a result, I treated myself to office furniture and an up-to-date desktop. If I was going to spend thirty or more hours in there, I wanted it to be a pleasant, organized space. I tend to write at all hours of the day and night, except in the early morning. I'm still a night owl who doesn't really feel alive until mid-morning. Some of my best scenes and chapters were composed in my head while driving. I couldn't wait to get home and save them electronically.
What is your biggest failure and what did it teach you?
I once regretted that I wasn't spectacular at anything. I wasn't going to be a famous artist. I wasn't going to be a renowned Speech Language Pathologist. I wasn't going to get on TV for rehabbing old houses. But I've been married to the same man since 1975. I have a great adult son. I've written a book that I'm proud of and people have liked. Although I haven't had spectacular successes, I also haven't suffered through devastating failures. Being middle-aged, middle class, and middling successful isn't so bad and that's what I've learned.
What is the best writing advice you've ever received?  Or do you have some personal writing advice to offer?
My personal writing advice is to write the book you want to read. Writing is hard work. Publishing is harder work. Marketing is the hardest work. Put in the effort for a book you wish could be wiped from your memory so you can read it and enjoy it as much as you did when you wrote it.
Who is your Dream Dead Date and why?  (Literary or otherwise)
I'm not sure what a Dream Dead Date is, but all the male protagonists in my books are patterned after men I find attractive. In Worth Her Weight, Cort Hardison looks like Keanu Reeves. In my book due out later this year, Glass Promises, Beau Charvet reminds me of Anthony Carrino from the HGTV show, Kitchen Cousins. In my almost finished book, Estate of the Heart, the Australian, Jackson Ryan, is a younger version of Simon Baker from The Mentalist. Before I was married, I had some killer dates and some where I wanted to kill my date. Nowadays, a great date is one where I don't have to cook and my husband doesn't want to rush home because a game is on TV that he can't miss.
Favorite cocktail and at what Florida bar?
I'm not much of a drinker and hate bars. But I love to eat. When one of my favorite restaurants closes, it is like a death in the family.  I don't care what anyone says, the best ribs are at Rock 'n Roll Ribs in Coconut Creek. The vanilla vinaigrette on the spring greens and goat cheese salad at Big Bear Brewery in Coral Springs is worth the trip. The specialty pizzas at Pizza Time also in Coral Springs are to die for and too many of them will hasten your demise. The best Pho soup in South Florida is at Saigon Cuisine in Margate.
Get to know Janet and her comedic romances  by following her on facebook and twitter.