This interview has me so excited that I've stopped worrying about Tropical Storm Ericka. I'm not actually worried as Floridians don't worry about tropical storms but we do watch the weather reports like hawks watching a chicken coop. Back to the interview — Judy Sheluk beyond being a mystery writer is also an antique junkie like me! She actually works (Senior Editor) for the New England Antiques Journal. I would love to go antique-ing with her. I wonder if I can get her down to Miami for the Miami Beach Antique Show? What do you say Judy? Don't you need to do some field research for your next book?
Judy and I are both members of Sisters in Crime and that is how I came to know  her. First through her short story "Plan-D" in the Toronto Chapter's The Whole She-Bang 2.  And then by her full-length novel that was released in July of this year. I think you will enjoy getting to know Judy as much as I have — Tropical Storm or not!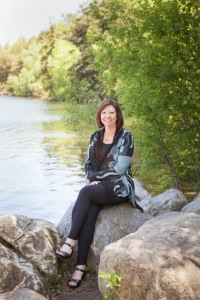 Have you ever been to Miami? Please tell us the one thing you found delightful or unique about "The Magic City".
I was fourteen the first time I visited Miami, and I was with my mother. I'd never seen an ocean before. I remember charging into the water, my mouth wide open—the way I would into a freshwater lake—and being shocked when it tasted salty. I knew, of course, that the ocean had salt water, but I'd never really thought about how it would taste. I loved walking along the beach and picking up seashells, loved the sound of the waves when I was trying to fall asleep at night.
The next time I went to Miami, I was eighteen. I went with a girlfriend during March break. We met a couple of local guys on the beach and I remember that one of them asked us if we had igloos in Toronto! I replied, "Yup, and we eat whale blubber for dinner." He laughed and said in Florida the women carried "live alligator handbags."
What is your favorite novel set in Florida and why?
I don't know if I can pick a favorite, but I loved John D. MacDonald's Travis McGee books. I read every book in that series. Living on a boat—are you kidding me? I grew up in Toronto, Canada. No one lives on a boat (okay, maybe for a month or two in the summertime, but certainly not for 12 months of the year). I also thoroughly enjoyed Ed McBain's Matthew Hope novels. I've never been to the Florida Keys, but I would love to visit there some day.
Tell us about your writing and main characters.
The simplest way is to provide a brief synopsis of The Hanged Man's Noose, which I like to describe as "amateur sleuth with an edge.":
Journalist Emily Garland lands a plum assignment as the editor of a niche magazine based in Lount's Landing, a small town named after a colorful Canadian traitor. As she interviews the local business owners for the magazine, Emily quickly learns that many people are unhappy with real estate mogul Garrett Stonehaven's plans to convert an old schoolhouse into a mega-box store. At the top of that list is Arabella Carpenter, the outspoken owner of an antiques shop, who will do just about anything to preserve the integrity of the town's historic Main Street.
But Arabella is not alone in her opposition. Before long, a vocal dissenter at a town hall meeting about the proposed project dies. A few days later, another body is discovered, and although both deaths are ruled accidental, Emily's journalistic suspicions are aroused.
Putting her reporting skills to the ultimate test, Emily teams up with Arabella to discover the truth behind Stonehaven's latest scheme—before the murderer strikes again.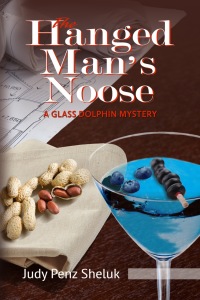 Would your main character(s) be a fish out of water in Miami or would they dive in and swim with the sharks?
They would definitely dive right in. Emily Garland is a journalist, a triathlete, and an avid golfer. Miami would be the perfect place for her to live, work, and play. There's an event, Escape to Miami Triathlon; it sounds like something she'd love to participate in.
Arabella Carpenter would embrace Miami's vibrant antiques culture. For example, The Original Miami Beach Antiques Show. As the world's largest indoor antique show, the Show presents nearly 1,000 recognized dealers from 28 countries for five days every January/February. The show offers everything from Renaissance to Art Deco to fine art, American and European silver, antique jewelry, 17th-19th century furniture to porcelain and more.
Be sure to follow Judy on Facebook and twitter. Find out about her latest adventures on her website http://www.judypenzsheluk.com/
Judy, we no longer carry live alligators but we do still have plenty of them in every canal and spit of water. Come on down whenever you get tired of your igloo. <wink>
[contact-form][contact-field label='Name' type='name' required='1'/][contact-field label='Email' type='email' required='1'/][contact-field label='Website' type='url'/][contact-field label='Comment' type='textarea' required='1'/][/contact-form]