I am pleased to introduce you to the mystery writer M.C.V. Egan. She dabbles in historical research and exploring the psychic side of things. When she had questions about her grandfather's mysterious death she took those skills and put pen to paper or rather finger to keyboard.  She & I are members of Mystery Writers of America and I know her as vivacious Catalina who always has a story to tell about her globe trotting life. You will loved getting to know her just as I have.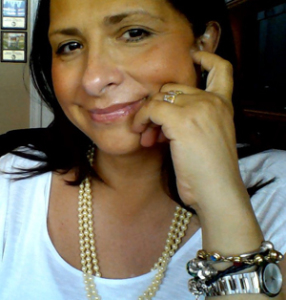 For the sake of the non-South-Floridian here is a lexicon lesson  you may need for this interview. Football to a Latino is Fútbol which is soccer to most English speakers. And Miami has a LARGE Brazilian population.
1. Have you ever been to Miami? Please tell us the one thing you found delightful or unique about "The Magic City".
Yes, I absolutely love Miami. I live in Delray Beach, Florida about an hour drive north of "The Magic City". My husband, son and enjoy visiting Miami, the vibrant international energy is so invigorating. We often book flights early in the morning out of the Miami airport as the perfect excuse to spend the night there, to enjoy a fun dinner at one of our many favorite places in Miami.
Five years ago for my birthday we spent a few nights and explored the city the way tourists visiting from far way do. It was during the Football World Cup that South Africa hosted in 2010. On my birthday, we enjoyed breakfast at a place on Miami Beach with huge TV screens showing the Brazil vs. Holland game.
I am a fan of the Dutch team, I have been for years. I love how goofy they look in their head to toe orange gear, a bit like human traffic cones. A good Dutch friend from college was such a fan it became contagious to root for them.
The game was an exciting one. The place was large and loud and most of the fans were cheering for Brazil. Holland beat Brazil 2-1. I got strange looks; maybe even the 'looks can kill' type of looks from the Brazilian fans, as I cheered enthusiastically for my favorite team.
I am originally from Mexico City and certainly look Latin American, I figured they pegged me as an evil dissident Brazilian. When the game ended noticing my reflection somewhere I realized that the fun colorful top I wore that day was in the colors of the Brazilian flag.
2. What is your favorite novel set in Florida and why?
Probably MAXIMUM BOB by Elmore Leonard. When I moved to Florida in the late 80s; not realizing it was a permanent move, I remember looking for books with Florida settings.
I discovered Elmore Leonard through Maximum Bob. It is such a wild story, my husband's uncle; a Judge in the Florida courts died shortly before we met. His widow and daughter were a huge part of our lives when we first moved here. Tom loved to talk about his uncle Jim (Judge James Minnet). He sounded like the type of judge who would give the maximum sentence like Judge Bob Gibbs in the book.
The array of colorful crazy characters makes it such a fun read. I am also very keen on the psychic and spirit channeling. The Judge's wife in the book is too quirky for words, she thinks she's channeling the spirit of a 12-year-old African American girl. I remember laughing so much as I enjoyed the book.
Just telling you about it made me want to read it again as a seasoned Floridian this time!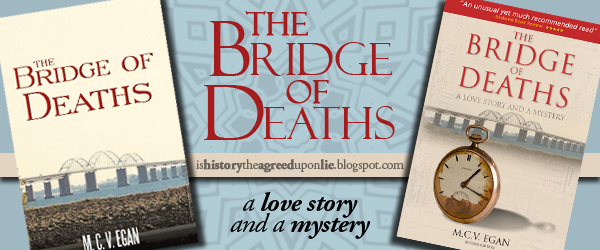 3. Tell us about your writing and main characters.
I love to write, it is a bit like breathing, a necessary pleasure. I wrote a book The Bridge of Deaths which revolves around the real 1939 plane crash in which my maternal grandfather lost his life. From a very young age I became obsessed with the story, in my 30s I finally had the resources to pursue a serious investigation.
In 1939 anyone on a plane was a somebody. My research began well before the information superhighway made so much available to everyone. To date many of the resources I used are not available on-line.
I am not a trained historian or researcher. I resorted to enhancing my research by taking my grandfather's watch to local psychics. The results were astounding and it broaden the storyline.
I created fictional characters Maggie, Bill and Catalina to give the reader a feel that they were the ones sifting through the data. I can only guess all of us as writers would like to believe our characters, our creations are deep, diverse and complete; it is at least what I strive for when I write.
Bill is a mess, he is successful but suffers from fears, phobias and nightmares. Maggie is a free spirit passionate about peace and knowledge. Catalina is just that small piece of me obsessed with the story. I made Catalina alone and very lonely, her world stuck in the 1930s not by personal experience. Maggie and Bill come to the conclusion that they were part of the plane crash in past lives and that unraveling the intrigue and mystery of the crash will cure Bill from his present day turmoil.
Catalina is so obsessed that she cannot move forward in her life without finding a closure to the story or is she simply afraid that if she solves the story her little life will become meaningless?
In my Defining Ways Series I have only released the first book; Defined by Others my characters in that book are women in their late 40s. The characters in that book are deceptively dark and cruel or overtly so. It has dark humor and in search of how they fit into society as new divorcees Anne and Connie take up a hobby involving cyber deception of their peers.
I feel the characters are very human and tackle what is one's breaking point.
I am in the process of writing book two. Climbing Up The Family Tree; Defined by Pedigree the character's in that book are still evolving and growing, as a writer I feel I learn so much from my characters. They are all in a sobriety program conquering their addictions.
Through Maggie I have become very conscious of and involved with Peace Movements. I am a skeptical cynic by nature but creating a young woman with huge dreams and aspirations for the world and society as a whole, has made me wish for that very thing.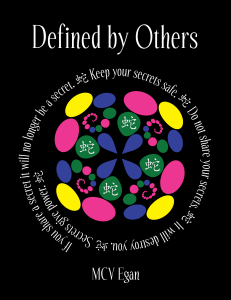 4. Would your main character(s) be a fish out of water in Miami or would they dive in and swim with the sharks?
When Tom and I moved to Florida it was planned as a temporary stepping stone, we intended to move to the Midwest to be geographically close to his children by a previous marriage. That was twenty six years ago, and Florida is home.
Life does have a way of deciding for us sometimes. For many years I felt that Florida was a temporary place and that we would eventually move, in the last few years I have come to realize that I absolutely love Florida, as Carl Hiaasen (I was tempted to name one of his books as a favorite Florida setting) likes to point out, far from perfect with so many corrupt politicians, but it is where I see myself for the rest of a long life.
They say write what you know and I know Florida, some of my characters visit Florida or live in Florida. I have also lived in Sweden, France, Mexico and a few other places in the U.S. of A.
I like diversity in my characters so I cannot imagine every character I write would feel great comfort in the company of sharks nor diving.
Catch up with MCV Egan on twitter .
[contact-form][contact-field label='Name' type='name' required='1'/][contact-field label='Email' type='email' required='1'/][contact-field label='Comment' type='textarea' required='1'/][/contact-form]