I love when my mystery blog branches out like in this installment of Miami Interviews. I am pleased to introduce my readers to Ruth Hartman Berge. She has published a memoir of growing up in Palm Beach Florida that is packed full of historical tidbits. What else would you expect from a writer of a column called  "The Florida you don't know."? She has a children's book out and is an avid cozy mystery fan.  I know you will enjoy getting to know Ruth as much as I have. Her WIP (that's a writer acronym for Work in Progress) is a cozy mystery with a Caribbean vacation backdrop that sounds right up my reader's alley. Can't wait for it's publish date to arrive!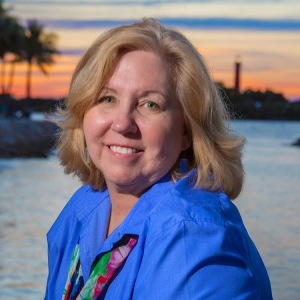 1. Have you ever been to Miami? Please tell us the one thing you found delightful or unique about "The Magic City".
I lived in Coral Gables and Kendall back in the 1980s and found it endlessly fascinating. There was always something going on—festivals, fairs, museum shows, concerts, boat shows, car shows. Never a dull moment.
I grew up in Northern Palm Beach County which was mostly cow pastures during my childhood and to us, Miami was always the BIG city to the south. The few times I traveled to or through Miami as a child, I remember riding in the back seat down U.S. Highway One when it was the only way through the state. There were trips to boat shows on Miami Beach, the Crandon Park Zoo and Monkey Jungle. The buildings were huge! Back in those days, bagels were a rarity in Palm Beach County and we always came back from Miami Beach with a bag of them.
In the 1930s, my grandparents, some of the early settlers of Delray Beach, took a trip to Miami (pronounced "Miamah") to get a table big enough for the family dining room. There was nowhere local to get anything like the dark wood table with claw feet that stretched eight feet, or so it seemed to my child's eyes. My dad fondly remembers the Venetian Pool in Coral Gables and it was quite a joy to live near it decades later.
If I have to pick one thing I found delightful or unique about Miami, it would be things like going to Tobacco Road and finding out it held liquor license number 1 and was, at one time, a speakeasy. There was, and is, always something amazing just under the surface in Miami.
2. What is your favorite novel set in Florida and why?
I'm one of the Tim Dorsey fans. His character Serge Storms spouts off Floridiana throughout the books. Dorsey makes me laugh and I know I'm actually learning some little tidbit of Florida history that will astound my friends when I share it. Besides, Dorsey grew up in Riviera Beach, a couple of towns over from my hometown of North Palm Beach. I'm sure if we ever got into a "do you know" conversation, we'd have people in common.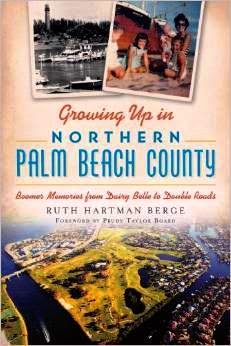 3. Tell us about your writing and main characters.
My latest published book is a non-fiction memoir/history about growing up in Northern Palm Beach County. Aptly titled, "Growing Up in Northern Palm Beach County: Boomer Memories from Dairy Belle to Double Roads," I started with memories of events and places and added the history to my memories. I thought I knew everything about this area, but I sure didn't. Biggest example, the ghost of Sir Harry Oakes never did haunt the "Oakes Mansion" at the North Palm Beach Country Club, because (1) he wasn't murdered there, (2) he never lived there other than a few days or weeks, and (3) it was actually the Palm Beach Winter Golf Club and built by Harry Kelsey (who founded what is now Lake Park). See? Always looking to find what's under the surface.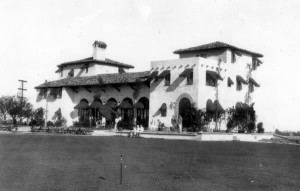 I'm currently working on my first murder/mystery, working title, "Vacations Can Be Murder" based in the Bahamas and North Palm Beach. Donna and Sandy's vacation goes awry before they even leave the state when their cruise ship catches fire and they're forced into plan "B." They finally make it to Nassau only to stumble into a smuggling ring, hear the tale of a jeweled bottle lost since the days of The Duke and Duchess of Windsor and Sir Harry Oakes, and find a dead body at a bus stop. After a harrowing trip, they manage to return home to Palm Beach County and unknowingly bring the mayhem back with them. A hurricane blows ashore and the women are forced to find courage they didn't know they had to protect their loved ones from the smugglers who are convinced the women have figured out where the jeweled bottle lies.
You can sign up to follow my blog or email me for info on future releases at ruthhartmanberge.com.
4. Would your main character(s) be a fish out of water in Miami or would they dive in and swim with the sharks?
At the beginning of the book, being small town girls, they'd be fish out of water in the big city of Miami and overwhelmed by the sheer size of the city and the crowds of people. But by the end of the book, they've found their mojo and would not only swim with the sharks, but have them eating out of their hands.