I say that with all the love in the world.  Honestly, I do. I was born in North Georgia. My mother's heritage is Southern. I get the Southern thing. My accent changes when I cross the Fla-Ga line. Hell, I have a "catch all" plate next to my laptop that reads "I'm fixin' to" . . .  I don't drink out of a mason jar because I know the only thing one would drink out of a mason jar is moonshine. My grand-dad told me about going up in the hills and down in the holler to get 'shine for the big New Year's Eve shin-dig. I've got Southern cred to "East Egypt" (as the expression goes) and back. That said . . . North Florida is NOT Southern nor is it tropical like South Florida (Broward, Dade and Monroe). I was expecting a little of the Southern hospitality of an offer of a glass of sweet tea but that is not North Florida. North Florida is Cracker. And Cracker is country but not "honey-child" – "sweet pea" Southern country. The term Cracker has its own dark history of racism and I urge you to research it on your own. I am using it to refer to the cow folk – frontier folk – scrub brush – horse country nature of North Florida.
Recently, I drove through North Florida on my way to Atlanta for work. (Not writing related work. My day job related work.) I have driven that route 2-3 times a year  since I got my licenses. I will not be doing the math for you but suffice to say I have driven it many many times. I usually just zoom up the road without a stop other than a pit stop in Ocala. This trip I finally allowed for some time to stop and enjoy the antique shops that are advertised on the highway billboards.  History and cultural lovers that we are (me, the SO and the teen) we love antique shops. The first stop was Traditions in Wildwood. 30,000 square feet of dust and treasures. It was there that I found this gem:
The part you can't see are  the measurement. The higher your native-ness the more you get to drink.
Snowbird 2oz
Landlubber 4 oz
Surfer 6 oz
Mate 8 oz
Captain 10 oz.
This is now my everyday glass. I love it. This is the Florida native I understand.  This is South Florida native-ism. Are you comfortable on a boat, cutting bait, and covered in salt? If yes then you get to drink a little more than the light-weight snowbird (6 month resident just down to enjoy the mild winters). I moved to Miami when I was 6 yrs old. I spent summers fishing with my dad in the Keys. That is the Florida I know and that is South Florida.
We visited another antique mall just off the Florida Turnpike set up on a hill. To get to it you drive passed a ramshackle storefront that bills itself as having Cracker and primitive antiques (sadly it was not open) and up a gravel road with curtains of Spanish moss. When you walk in what looks like a red barn but is actually a concrete two-story warehouse you are not expecting to see Asian treasures the size of linebackers. It was a lovely place.
Anyway, if you want to explore the differences between South and North Florida I have a few mystery  books to recommend.
Deborah Sharp's Mama series set in North Florida.
And Liv Spector's The Rich and The Dead set in the South Beach playground of the uber rich .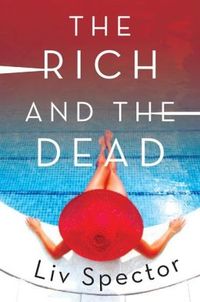 And then of course for the wacky (both North and South Florida) read Carl Hiaasen.  I really liked Nature Girl.