If you have ever wondered how far it is from Miami to Chattanooga and how long it takes to drive it ….
Here is your answer: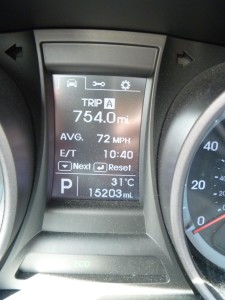 I went to my cousin's wedding this past weekend. It was a delightful get away and a mini-reunion of sorts for the Cuban side of the family.. Two of my tia abuelas (great aunts) were there along with several cousins. We were 15 total and four generations.
The mountains of Chattanooga were spectacular and the wedding took place against the backdrop of a bend in the Tennessee river. There was great fun had by all despite there being no alcohol or dancing at the reception. My aunt's faith is different from the rest of ours. Despite the more traditional values, the liberals (raises hand) in the group felt welcomed with open arms and open hearts.
Now you know how writers are when they get to be an observer of a sub-culture … right?! So, I began to think 'What if?'. What if there was a dead body on the grassy path to the river behind the hedge of fairy lights? What if in this tight-knit, joyful community of faith there was a murder? At first, all eyes would turn to the non-members at the reception dinner.  But when they were cleared, who ,then, would fall under scrutiny? The doctor passing out spinach squares? The nurse that made the cake? The groomsman that pour the sparkling cider?
A writer's life is a grand life because we can make entertainment out of the simplest of crumbs!
And on that note I leave you with this fabulous drinking glass i picked up on my trip: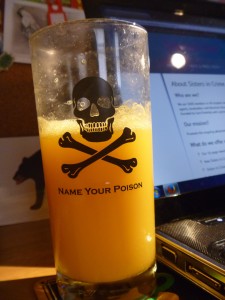 My poison was a frothy mimosa after my 11 hour drive.